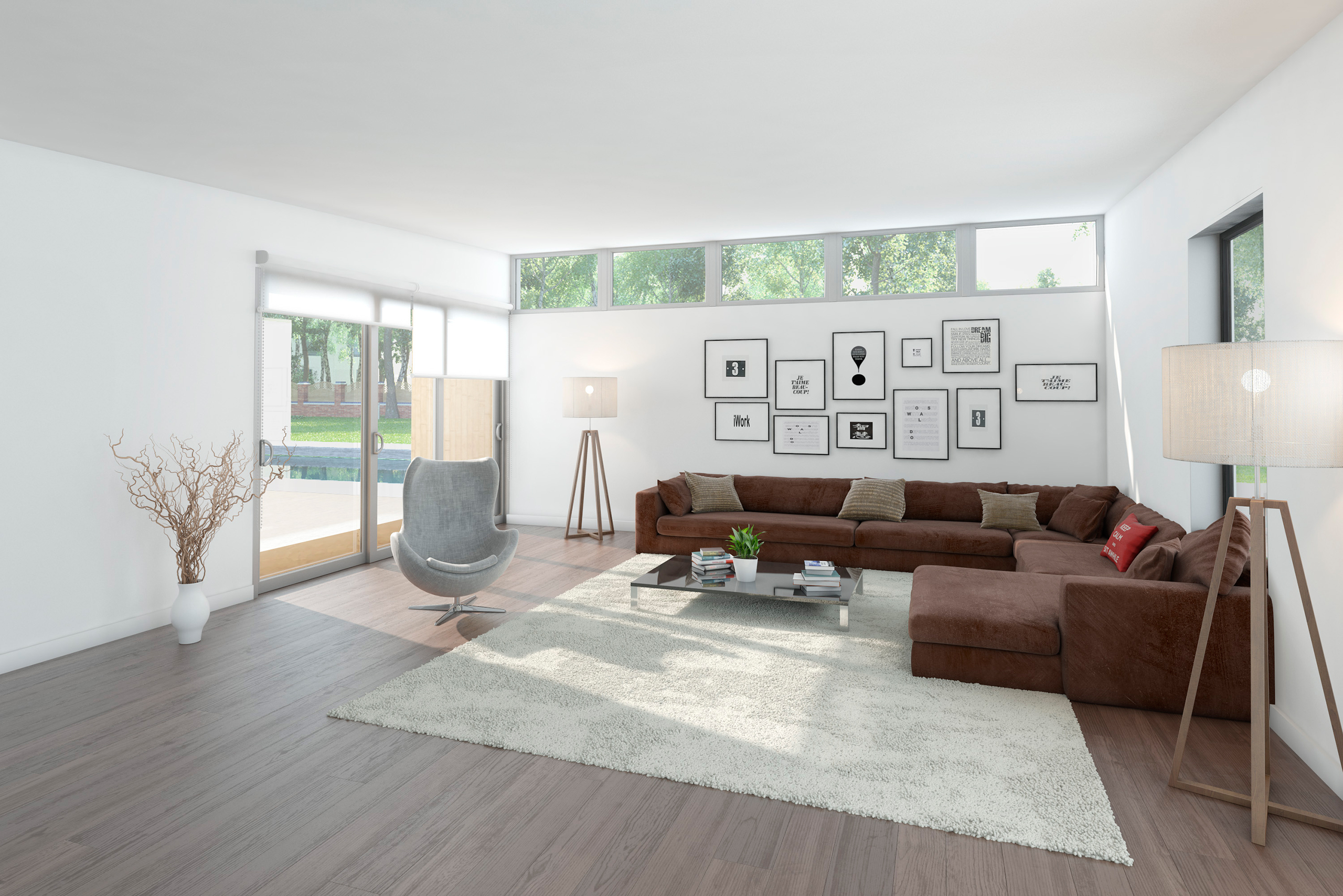 * Thermal mass insulation and reflective insulation in walls and roofs.
* Mass insulation with dry mortar on floors.
* Interior partition walls, wall linings and false ceilings, PLADUR, FERMACEL or similar with plates F.O.C. with 15mm F.O.C. panels on a rock wool mantle with high fire resistance and excellent acoustic behavior.
* Exterior PVC or aluminum windows with thermal break and double or triple glazing for solar control + 1 or 2 air chambers or argon gas.
* Flooring in living/dining room and bedrooms + ceramic tiles in kitchen and bathrooms.
* Top quality kitchen furniture, to be chosen by the client.
* Wall cladding in bathrooms and kitchens of your choice.
* Bathrooms and toilets in white color of ROCA or similar brand.
* Bathroom, toilet and kitchen taps of GROHE brand.
* Interior doors with solid wood frames and trim, optionally lacquered in white with rubber gaskets and stainless steel fittings.
* Parquet flooring in galleries and surroundings of the house.
* Interior painting of walls and ceiling finished in satin white color.
* Solar panel for A.C.S. and heating support.
* Heat recuperator (double-flow controlled mechanical ventilation) with particle and pollen filters.
* Air-conditioning system (winter and summer) by means of high efficiency heat pump and fan coil exposed or inside the false ceiling.
* Approved electrical system with halogen-free materials.
* Mechanisms of SIEMENS, SCHNEIDER or similar brands.
* Approved telecommunications system.
* Sanitation system with polypropylene pipes and rubber gaskets.
* Sanitary hot and cold water system with polybutylene piping with mechanical union or thermofusion.
* Exterior windows with triple glazing + argon gas chambers.
* Exterior glazing with low or high solar factor as appropriate.
* Energy efficient kitchen appliances.
* External window obscuration systems of your choice.
* Photovoltaic panels with storage batteries and voltage converter.
* Home automation system with control from mobile phone, PC or Tablet.
* Canadian well system as a complement to the double flow controlled mechanical ventilation + complementary filters.
* Rainwater and gray water recovery system for use in toilets and irrigation.
* Green roof system, which absorbs CO2 and fine particles, emits oxygen and improves thermal/acoustic insulation, protecting the roof.